DDI Signs ® can provide you with a high end fabric banners & backdrops. Additionally, we have several solutions for displaying fabric banners.
We use state of the art dye sublimation printers and premium fabrics. Resulting in vibrant textile signage and graphics.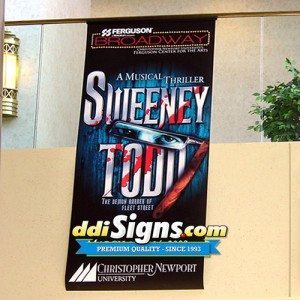 Fabric Banners & Backdrops
Custom Dye Sublimation Imprinted Textiles.
DDI Signs ® provides custom printing on fabric banners & backdrops. Textile signage offers a beautiful finishing touch to displays resulting in high end professional branding.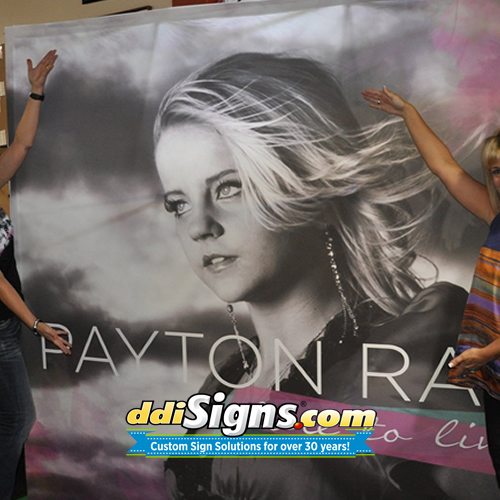 Fabric Banner Materials Available
Fabric Block Out Banner – This is our best selling backdrop banner textile. Non-glare during photo shoots. Also, eliminates back light from showing.
Soft and Heavy Knit Fabric – Ideal for our tension backdrop displays. Vibrant colors and a beautiful feel. Also, stretches for a drum tight fit.
Flag Fabric Banner Material – Perfect for outdoor flags and indoor banners. Additionally, the imprinted image shows a reverse print on the back side.
Fabric Mesh – Used for fence signage and banners that are placed in windy conditions.
Sunbrella Textile – For outdoor signage and banners.
Poly Canvas – Indoor and outdoor uses. Banners with a heavier weigh and classic feel. Also, stretch over frames.
These are our most popular textiles. If your project requires a specialty fabric let us know. Because, most of the time we can find it.
Fabric Banner Finishing options:
Hemmed with straight edges.
Pillow case fabric banners for tension banner stands.
Pole pockets at the top and bottom.
Also for pop up displays velcro hook and loop is sewn on the back for a drum tight display.
Pantone Color Matching
We Care About Your Brand Image!
To ensure that your branding is consistent, our print technicians match to the Pantone color system.
Additionally, we can provide imprinted samples of the material for approval. No two printers will print the same colors. Also, a sample ensures your banner is printed correctly the first time.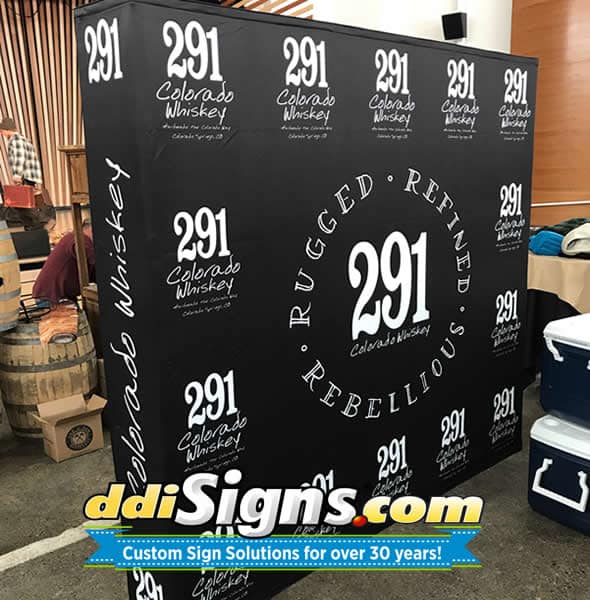 Available fabric banner stands for displaying your backdrops:
Media Backdrop Pillowcase Fabric Flat Wall.
Pop Up Stretch Fabric Banner Displays.
Telescoping Adjustable Stands for Pole Pocket Banners.
Tension Stretch Fabric Displays including Curved, Wave and other Tension Structures.
Also, Banner Hanging Rails and Bars.
Industries that use our Fabric Banners
Businesses, Organizations and Corporations Have Trusted us with their image for over 30 years!
At DDI, we bring with us the experience and knowledge to understand what promotional strategy works best within each industry.
Retail Stores, Shopping Malls and Grocery Stores.
Corporate and Office Buildings.
Restaurants and Fast Food Chains.
Sports Teams and Special Event Companies.
Auto Dealers and Showrooms.
Hotels, Motels and also Hospitality.
Health Care and Hospitals.
Schools, High Schools, Colleges and Universities.
Industrial and Manufacturing Business.
City, State and Governmental Organizations.
Non-Profits and also Charity Organizations.
Music and Entertainment Companies and Venues.
Food and Beverage Industry.
Advertising and Marketing Companies.
and to many more to list here!
Generate the Right Results for Your Industry
To request a quote for your Fabric Banners & Backdrops project, please complete our online form today. Also we encourage you to submit files, so that we can provide feedback. We will look at your current brand design and determine which of our fabrics will best suit your needs.