High quality vinyl banners and backdrop printing.
We offer high quality digital printed banners on several kinds of vinyl materials for indoor or outdoor use. Our vinyl banners can be finished off with pole pockets or grommets.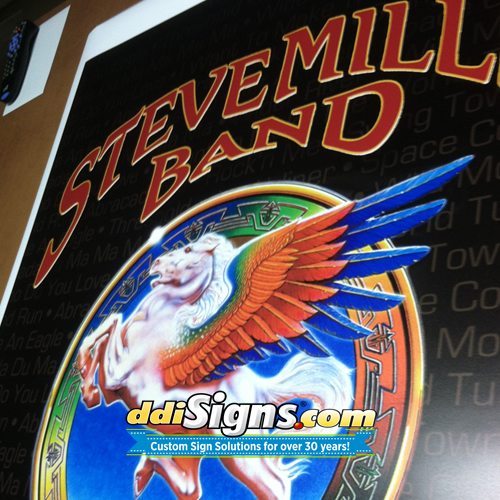 Custom Vinyl Banners and Backdrop Printing
Promote your brand with custom imprinted vinyl banners that will make all the difference for your business!
You are driving down the road and suddenly, something catches your eye, colorful vinyl banners displayed on a business you have never seen before. Curious, you pull the car over and take an unplanned detour into a local shop.
While there are likely several factors influencing your decision, one crucial element remains clear: their banner grabbed your attention and motivated you to pull over.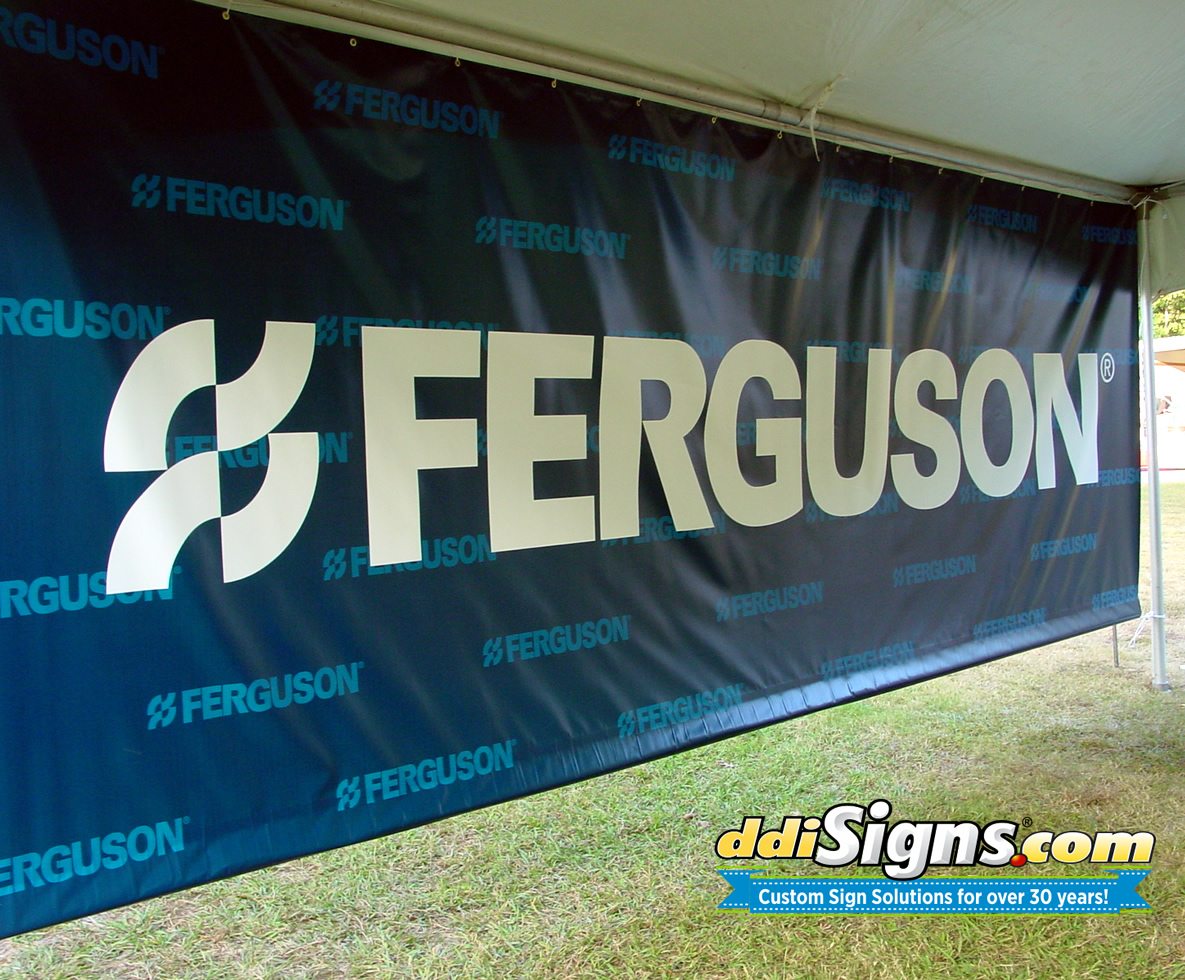 DDI Signs offers custom banner printing and professional design services. We know how to promote your special event and brand. We have real human graphic designers with years of experience that will make your brand stand out in the crowd.
DDI Signs vinyl banners are made from several kinds of materials for indoor and outdoor use.
Below are some standard options:
12 oz. Super Smooth Block Out Banner. Perfect for step & repeat banners, press conference back walls and media backdrops.
13 oz. Scrim Vinyl Banner for indoor and outdoor use.
15 oz Smooth Blockout Vinyl for indoor and outdoor use.
22 oz Smooth Blockout Vinyl Banner for outdoor use.
Vinyl Banners Finishing Options:
Hems and grommets.
Reinforced hems with grommets.
Pole pockets for displaying on stands. Also, for hanging banners from ceilings and walls.
Pantone Color Matching
We match to your branding colors. Ensuring consistent results. Additionally, we can provide a printed sample for approval. This ensures your banner and backdrop printing is correct the first time.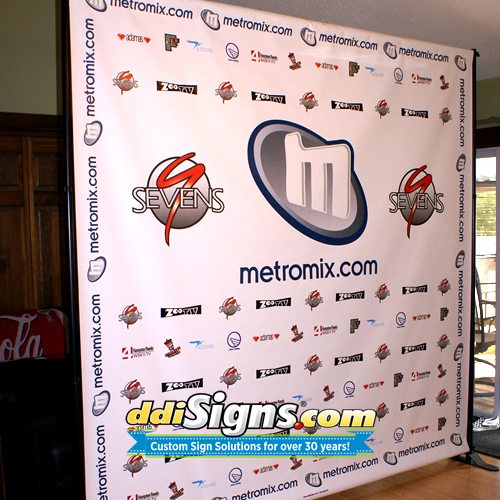 The above photo shows one of our custom printed vinyl step and repeat backdrop banners. The backdrop is displayed on a Telescopic Adjustable Banner Stand. Pole pockets are sewn at the top and bottom of the banner. The banner slides on to the frame and is adjusted for a professional display.
Banner Hanging and Display Options:
Vinyl Banner Stands and Displays.
We offer several kinds of banner stands that can display vinyl banners. Below are some of our more popular banner displays.

Hanging Track and Rails
For hanging banners from walls and ceilings. Including an innovative aluminum track for grommeted banners. Also snap graphic grippers for straight cut banners.
Fence Clips
Special clips that allow you to display grommeted banners on fencing. Also is perfect for sponsor ads at sports venues.
Banner Stretching Frame
An aluminum frame system that stretches vinyl banners. Resulting is no sag display. Also allows for easy change outs of sponsor ads.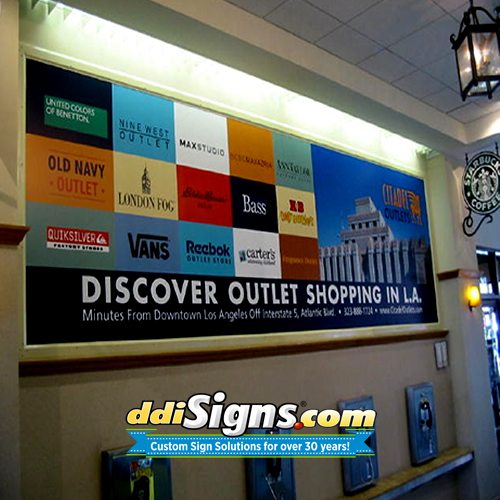 Our Heavy-Duty Banner Stretching Frame is a functional and attractive way to display a banner. Easily change out banners for branding and promotion.
Standard aluminum finish or painted powder coated colors. Use for displaying indoor or outdoor banners
Pole Brackets
Spring loaded banner bracket that is placed on street poles and light poles. So banners can be displayed in windy conditions.
Partner with DDI Signs to promote your brand
At DDI Signs we do not just make signs. At least not the way that most sign companies do. We know you invest a lot of time and money promoting your brand. Because of this we only use high quality vinyl banners material. Our clients have trusted us with their vinyl backdrop printing for over 30 years!
We can be contacted thru our online form here or send us an email at [email protected] and we can be reached by phone 757-593-8580.