Backdrop Banners for Political TV Media and Campaign events
Whether you need a political press backdrop for your campaign or policy conference, no matter what your party affiliation we can help.   Let the sign experts at DDI Signs help you choose the best backdrop display for your photo op event.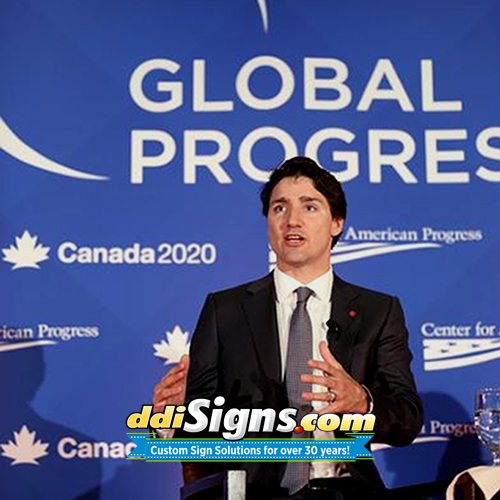 Custom Political Press Backdrop for TV and Media Events
Political campaign back walls and displays for election branding.
DDI Signs specializes in Media Backdrops for Campaigns and Non Profit Groups. Whether your event is in Washington D.C. , New York or your home state we deliver it fast. Below are some of our client's top picks for Political Press Backdrop Walls. Customers can choose from several kinds of displays. Proudly made in the USA!
What makes our political press backdrop different from others?
Only use high-quality materials, including Vinyl and Fabric.
High resolution printing.
Pantone color matching for brand consistency.
Optional printed color swatches for client approval.
A PDF proof for client approval.
Nationwide Shipping and we understand tight deadlines.
Professional Graphic Designers actually set up and check your files.
Over 30 years of providing quality backdrop banners.
Click here for some examples of our Political Press Backdrops in Action >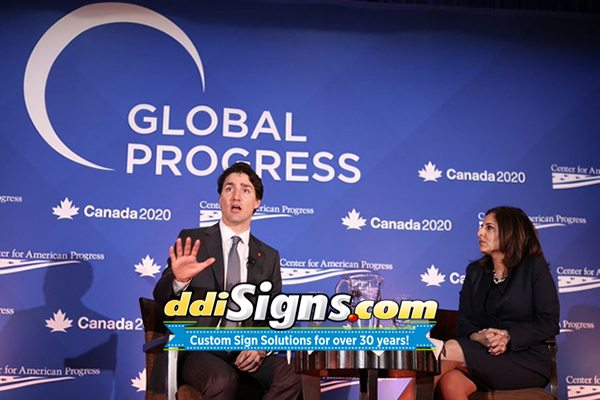 Giant Fabric Flat Wall Political Press Backdrop Display.
A professional fabric backwall with a pillowcase banner. Sleek and minimalistic design with aluminum tubing that snaps together.
8′ high x up to 30′ wide.
Standard sizes 8′ x 8′, 8′ x 10′, 8′ x 20′

10′ high up to 30′ wide.

Standard sizes 10′ x 10′, 10′ x 12′
Fabric Block Out Pop Up Banner Stand Display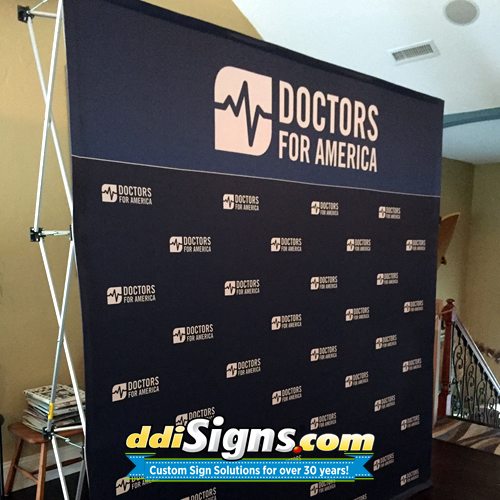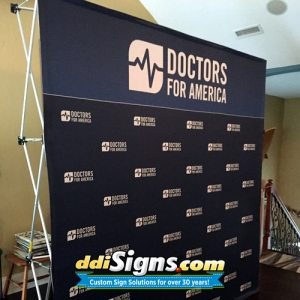 High-Quality Block Out Fabric
Pop Up Banner Stands are ideal for larger displays and more professional finished look. Our most popular display used by campaigns and political action groups for their Political Press Backdrop at media events.
Easy set up and take down.
Fabric banner attaches easily with Velcro hook and loop.
Collapses for Travel with Airline checkable cases available.
Ideal for larger backdrop displays.
Go here for more info on our Pop Up Banner Stand Display>
Fabric or Vinyl Telescoping Banner Stands

Telescoping Banner Stands are a versatile and affordable display solution. Ideal for Larger Displays and is Portable. Used for Retail Displays, Media Backdrop Banners and Step and Repeat Banner Backdrops.
Displays Fabric Banners, Vinyl Banners, and Mesh Banners with pole pockets top and bottom.
Consists of Telescoping poles that are adjustable to hold different sizes of banners.
Poles connect and disconnect to be broken down into a Travel bag.
Banner has to be transported separately from the stand.
Conversion kits available for larger banners.
Visit here for more info on our Telescoping Banner Stand Display>
Retractable Banner Stands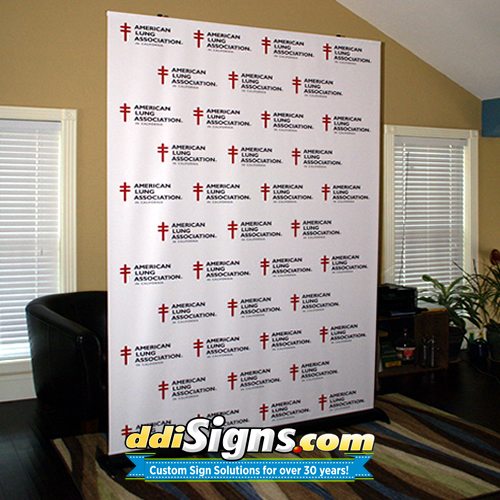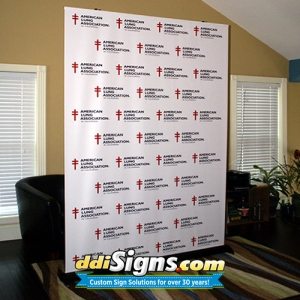 Our Retractable Banner Stands are Travel-Friendly. Ideal for Medium to Small size displays. Larger Displays can be created by placing these banner stands next to each other.  Used for Retail Displays, Media Backdrop Banners and Step and Repeat Banner Backdrops.
Banner Retracts into the base of the stand for Travel and Storage.
Available in Single- and Double-Sided Stands.
Banners can be easily changed.
Look here for more info on our Retractable Banner Stand Display>
Click here for more info on our Pillowcase Tension Straight Wall>
At DDI Signs we understand the hectic world today and the tight deadlines you may have. For years we have helped our clients meet their due dates with professional service and nationwide shipping. You can trust the sign experts to get your Political Press Backdrop there on time!