Why choose DDI Signs® for your PVC Stencils?
Our PVC Stencils are routed out of light weight PVC panels for durable, reusable stencils for spray painting logos on to ground surfaces. These computer cut stencils are detailed and cleanly cut graphics. Can be used for temporary ground imaging or permanent parking lot signage. Schools use our PVC Stencils to place team logos on multiple surfaces like turf logos.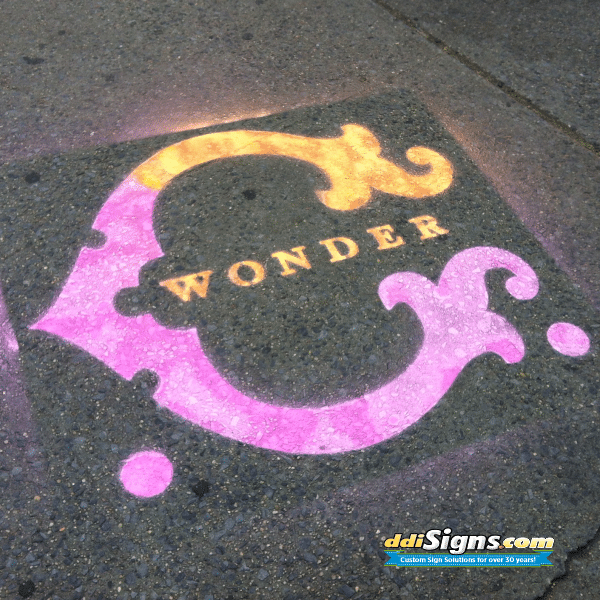 PVC Stencils for spray painting logos and messages on pavement.
This photo is an example of how a retail company used our stencils to paint temporary logos on sidewalks,the parking lot to promote a grand opening. They used temporary spray paint that washes away.
Just think of all the ways you could use this form of temporary ground imaging. At sporting events to promote team spirit, wayfinding paw prints leading to the main event just to name a few.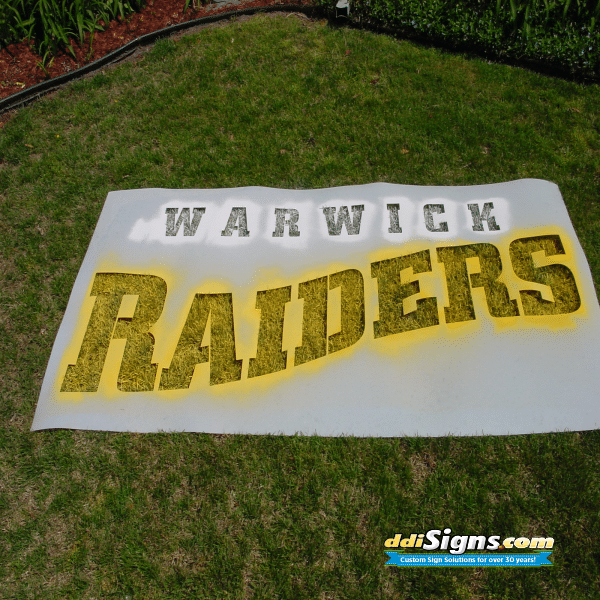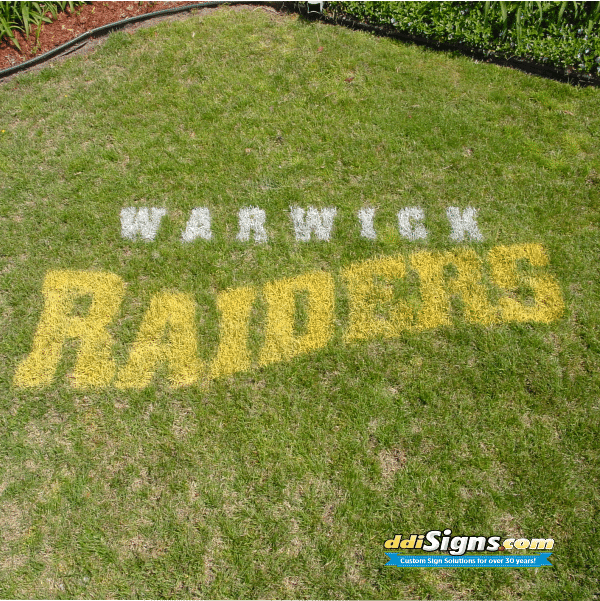 Sports Team Turf Logos and Mascots
Show your team spirit with field logos and messages.
Our PVC Stencil can be used to paint Turf Logos for schools and sports teams.
Signage That Delivers the Right Solution Visually. With DDI Signs® behind your business, no sign project is out of reach!
We are committed to developing signs and graphics that will generate phenomenal results. Using high quality materials and hardware, your sign will rank among the best that the industry can produce. Contact us today so we can help with your ground imaging project!
Please see our Submit Files page for complete file guidelines.
To produce Cut Vinyl Stencils we need Vector Files
We prefer VECTOR files – Adobe Illustrator Ai, EPS or Corel Draw.
All files must have fonts converted to outlines.
Properly converted vector files are preferred because there is no image degradation when enlarged.
Contact DDI Signs® today and our Custom PVC Stencil Experts will help you with your project!
At DDI Signs® we are "Not Your Typical Sign Company!"