Personalize your  special occasions with a banner decorated with your name and colors
Provide your own art file or Pick one of our Designs then our awesome artists personalize it with your info and colors. Our Designs are unique and original. Our "Personalized Banners" are designed for Special Events, Custom Birthday Banners, Wedding Banners, Anniversary Banners and Parties or create your own Red Carpet Paparazzi event.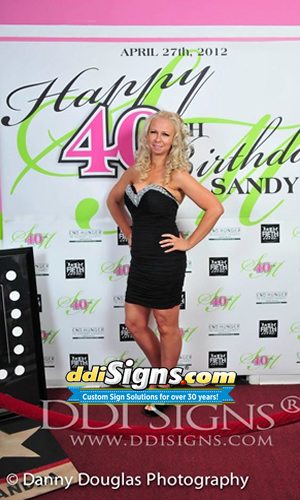 What are some noteworthy features of a Repeatz™ Personalized Banner?
Most importantly is that we have over 30 years of experience creating personalized special occasion decorations and backdrops.
We can print from your files or we can create a custom layout based on designs that our expert graphic designers have already drawn up, then personalize these beautiful works of art with your name and colors. We understand deadlines and ship nationwide.
Step over here to see our Gallery of our Repeatz Personalized Banners >
Special Occasion Events by design
Looking for unique and creative Personalized Banner designs? Our clients come to us because of our attention to detail and professional design ideas. We create memories for the following special events:
Birthday Banners no matter what your age or gender.
Wedding Personalized Banners and Hanging Decorations.
Anniversary Banner Designs.
Red Carpet Runway Banners.
Paparazzi Parties.
Photo Booth Parties.
Grand Opening of Retail or Restaurant.
Book Signings and Movie Premiers.
Any kind of Special Event you may have.
We tailor your Personalized Banner with colors and style that fits your personality.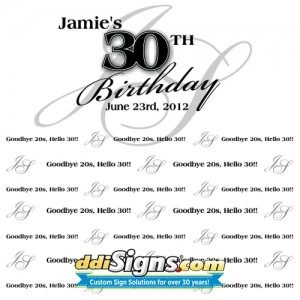 "I received my banner today and it is FABULOUS!! Love it!! I will be sending pics as soon as I can. Thanks again for such wonderful and fast service in such a short amount of time! You guys are great!"
— Jamie S., Louisiana
High Quality Printing Material Options:
Why do we use the below materials as opposed to other common cheap materials used by other companies?
Super Smooth 12oz. Block Out Banner
Seamless Giant Backdrops.
Superior Print Quality.
Lighter Weight than Common Vinyl Banners.
Super Smooth on Both Sides.
Can be printed on both sides for Double Sided Banners.
Anti Curl for Flat Banners.
True Block Out Banner.
Matte Low Glare Finish.
Can be displayed on one of our Telescoping Banner Stand or hung on walls with picture hanging tabs.
Fabric Block Out Banner
For a higher end look and feel, our fabric block out banner fits the space.
Seamless Giant Backdrops.
Dye Sublimation Printing provides Vibrant Colors and Resolution.
Lighter Weight than Common Vinyl Banners.
True Block Out Banner.
Matte Low Glare Finish.
Can be displayed on our Telescoping Banner Stand , Pop Up Banner Display .
Standard Sizes Available
| Size | Orientation | Price |
| --- | --- | --- |
| 4' x 6' | Horizontal or Verticle | |
| 5' x 5' | | |
| 5' x 8' | Horizontal or Verticle | |
| 6' x 6' | | |
| 6' x 8' | Horizontal or Verticle | |
| 7' x 7' | | |
| 8' x 8' | | |
| 8' x 10' | Horizontal or Verticle | |
| 10' x 10' | | |
| 10' x 20' | Horizontal | |
| 10' x 30' | Horizontal | |
Contact us for a quote on Custom Sizes Available
Mounting and Displaying
Vinyl & Fabric Personalized Banner Can be displayed on our Telescoping Banner Stands for Pole Pocket Mounting. This provides a clean professional display without sagging.
Clean cut with Grommets. Can be displayed on several kinds of stands and pipe and drape systems.
Also you can hang on walls with Removable Picture Hanging Hooks. Does not damage walls.
Our Personalized Banner and Personalized Backdrop Banners are perfect for:
Event Backdrop Banner
Press Conferences
Step and Repeat Banner
Media Backdrop
Retail POP Banner
Media Back Wall
Trade Show Back Wall
Interview Backdrop
Media Banner & Displays
Music & Concert Shows
Parties & Corporate Events
Press Release Photos
Graphic Back Wall
Paparazzi Backdrops
Press Backdrop
Stage Backdrops
Photo Op's
Athlete Head Shots
Concerts
Band Banners
Retail promotions
Event Walls
Film Festivals
Movie Premiers
Red Carpet Events
Charity Events
Sports Press Conferences
Sporting Events
Red Carpet Backdrops
Celebrity Photo Backdrops
Book Signings
and Much More!
See our Portfolio Gallery of our Repeatz Personalized Banners >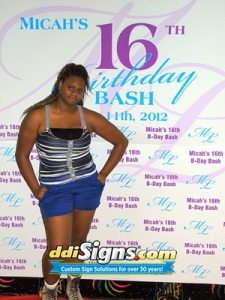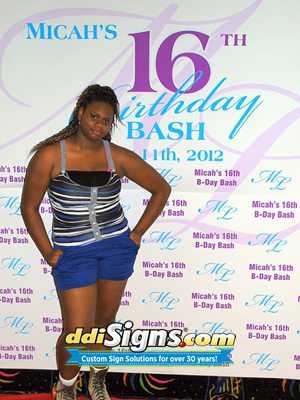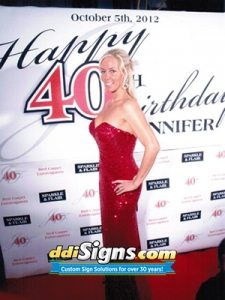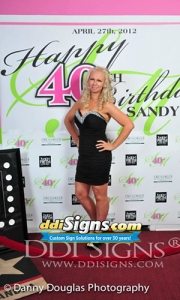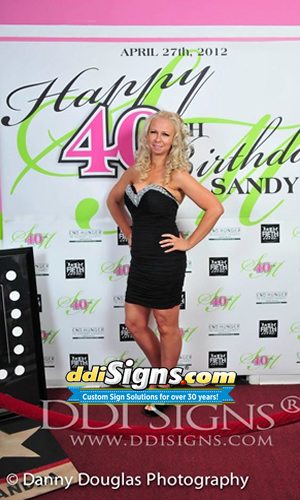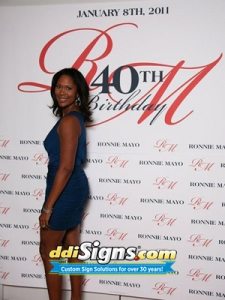 If you want to showcase your Personalize banner by DDI Signs email us at [email protected]
Please see our Submit Files page for complete file guidelines.
We prefer VECTOR files – Adobe Illustrator Ai, EPS or Corel Draw.
All files must have fonts converted to outlines.
Properly converted vector line files are preferred because there is no image degradation when enlarged.
* If raster/bitmap images are submitted please make sure our resolution and file guidelines are followed. Website images are not acceptable.