Why choose DDI Signs®for your Sports Arena Window Graphics?

Want to make a big statement to your fans?  DDI Signs can provide your sports arena window graphics that draw people in. The above window graphic was done for the Washington Capitals NHL Hockey Team. They had recently re-branded their logos and wanted to let everyone know. These graphics were installed on the windows of their practice ice rink and headquarters. Graphics were digitally printed in panels for installation. Prints were laminated with a protective coating and adhesive is special for windows. Ley us do the same for your sports team!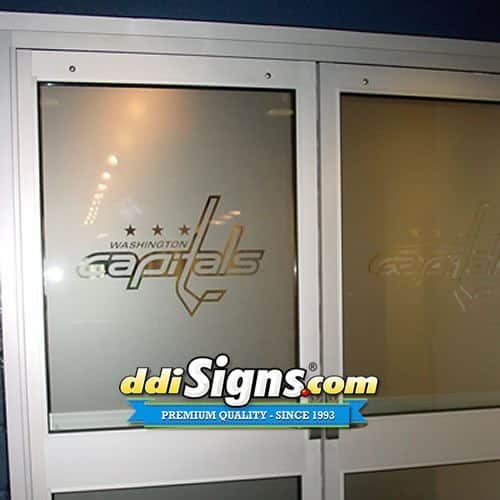 We also can provide Etched Glass Decals for a classy look. Create etch windows at a fraction of the cost of sandblasting. Premium vinyl can be installed on the inside or outside of windows. Indoor and Outdoor.
For added pop to your etch window graphic we can print your logo. Perfect for glass entrance doors to your arena, practice facility or gym.
For temporary event signs we have Double Sided Window Decals that are easily removed.
Ideal for promoting a one-time sponsor or event. Leaves no glue residue behind. Can have special sponsor ads for just one game. Advertise a charity event or team schedule.
Contact DDI Signs® today and our Sports Arena Window Graphics Experts will help you put together custom signage to suit your needs!
At DDI Signs® we are "Not Your Typical Sign Company!"