Window Graphics and Decals, Window Logos
DDI Signs can print custom Window Graphic Decals. We digitally print and can contour cut  our Vinyl Window Graphics  to any shape. Full color window signs with your logo, business name or display to promote a sale or special event.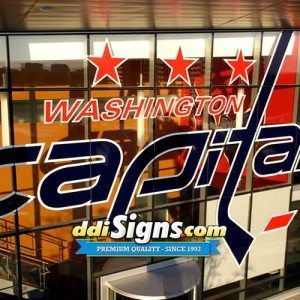 Sports Arena Window Graphics
Our Sports Arena Window Graphics are printed on Premium Vinyl with Permanent or Removable Adhesive. Short term decals on a Semi Rigid PVC with low tack adhesive.
Adhesive Window Decals & Signs displaying your team logos or images of players.
Want to make a big statement to your fans. DDI Signs can provide window logos and graphics that draw people in. The above window graphic was done for the Washington Capitals NHL Hockey Team. They had recently re-branded their logos and wanted to let everyone know. These graphics were installed on the windows of their practice ice rink and headquarters.
Graphics were digitally printed in panels for installation. Prints were laminated with a protective coating and adhesive is special for windows.
Ideal for promoting a one-time sponsor or event. Leaves no glue residue behind. Can have special sponsor ads for just one game. Advertise a charity event or team schedule.
Please see our Submit Files page for complete file guidelines.
We prefer VECTOR files – Adobe Illustrator Ai, EPS or Corel Draw.
All files must have fonts converted to outlines.
Properly converted vector files are preferred because there is no image degradation when enlarged.
* If raster/bitmap images are submitted please make sure our resolution and file guidelines are followed.