Wall Graphic Sticks to Asphalt, Brick, Pavement, Concrete and Tile Surfaces.
These specially formulated aluminum foil based wall graphic decals can be applied to and form to uneven surfaces.
Perfect for outdoor wall graphics that can be easily removed.
Made in the USA!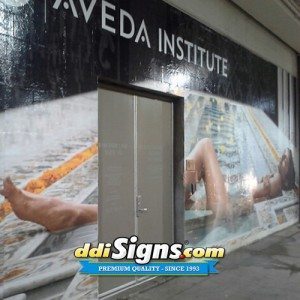 The Ultimate Outdoor Decal and Wall Graphic Decal.
Wall Graphic Sticks to Asphalt, Brick, Concrete, Pavement and Tile Surfaces.
Our Aluminum Foil Floor Graphic Decals are ideal for:
Outdoor Events
Sports Venues
Outdoor Brick Wall Decals
Outdoor Wayfinding Wall Graphics
Floor Ads and Graphics
Directional Wall Graphics
Unique Branding Solution
Pool Surface Decals – in and around pools
Wall Graphics and Murals
Concrete Pole Graphics
Brick Wall Graphics
Building Graphics
Special Event Pavement Decals
Sports Arena Decals and Signs
Step Graphics and Ads
Our aluminum foil based wall graphic vinyl is designed especially for concrete and asphalt surfaces. This product is superior to other products as it so much easier to apply and remove.
It installs in minutes. Requires brushing the surface to remove all dust and rocks. We recommend that you power wash the surface and allow to dry before installing. Simply, peel and stick. You can use a rubber roller to help adhere the decal to the surface and you can immediately walk or drive on.
This product is totally green, recycle with normal aluminum recycling centers
We Understand Deadlines.
We understand the tight deadlines and have proven that we can stand up to the challenge. We offer quick turnaround with reliable Nationwide Shipping.
We ship our Wall Graphic Nationwide.

ddiSigns.com ships Wall Graphic Nationwide from the East Coast to the West Coast.
Wall Graphic shipped USA and Canada.
Shipped from Kill Devil Hills, North Carolina
New York City, NYC
Washington DC
Virginia
North Carolina
South Carolina
Florida
Minnesota
Indiana
Iowa
Missouri
Chicago, Illinois
Dallas, Texas
Las Vegas, Nevada
Seattle, Washington
Alaska
Los Angeles, California
and anywhere in between.
Auto Showroom Display
Store POP Displays
Restaurant Signage
Hospital Lobby Stand
Hotel Lobby Signs
Museum Exhibit Signs
Movie Theater Stands
Retail Store Signage
Gas Station Signage
Office Lobby Stand
Book Signings
and Much More!