Wall Graphic Decals and Wall Wrap
DDI Signs ®  offers custom digitally printed vinyl Wall Murals, Wall Signs and Wall Graphics.
Turn that blank plain wall into a unique mural that displays your brand proudly. Create  custom wall mural or graphics for Retail POP, Office Signs, Special Events Signage.
We can print your wall decals and contour cut any shape for custom wall graphics.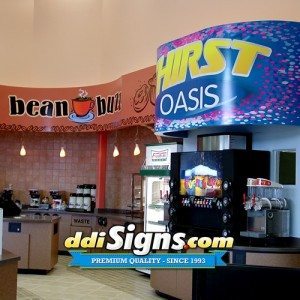 Wall Graphic Decals and Wall Wraps
Our wall mural decals should be installed directly on smooth painted and primed wall surfaces. Graphics can also be installed on to several panels and board materials like PVC, coroplast and foam board. We offer professional design services if needed.
We digitally print from files you provide at high resolution. Our vinyl wall decals are digitally printed on premium vinyl with an ultraviolet and scratch resistant matte over laminate.
There is no limit on the size of our wall mural. Our graphics are printed in easy to install tiled panels. DDI Signs ® specializes in wall murals for Ad Agencies, Sports Team, Corporate, Retail, Restaurants and Museum wall graphics.
We Understand Deadlines.
We understand the tight deadlines and have proven that we can stand up to the challenge. We offer quick turnaround with reliable Nationwide Shipping.
We ship our Wall Graphic Nationwide.

ddiSigns.com ships Wall Graphic Nationwide from the East Coast to the West Coast.
Wall Graphic shipped USA and Canada.
Shipped from Kill Devil Hills, North Carolina
New York City, NYC
Washington DC
Virginia
North Carolina
South Carolina
Florida
Minnesota
Indiana
Iowa
Missouri
Chicago, Illinois
Dallas, Texas
Las Vegas, Nevada
Seattle, Washington
Alaska
Los Angeles, California
and anywhere in between.
Auto Showroom Display
Store POP Displays
Restaurant Signage
Hospital Lobby Stand
Hotel Lobby Signs
Museum Exhibit Signs
Movie Theater Stands
Retail Store Signage
Gas Station Signage
Office Lobby Stand
Book Signings
and Much More!
We offer several kinds of Adhesive Wall Graphics:
Premium Vinyl Wall Graphics with Permanent Adhesive
Premium Vinyl Wall Graphics with Removable Adhesive
Fabric Wall Graphics with Removable Adhesive
Rigid Wall Graphics with Removable Adhesive
Please see our Submit Files page for complete file guidelines.
We prefer VECTOR files – Adobe Illustrator Ai, EPS or Corel Draw.
All files must have fonts converted to outlines.
Properly converted vector files are preferred because there is no image degradation when enlarged.
* If raster/bitmap images are submitted please make sure our resolution and file guidelines are followed.