Why choose DDI Signs® for your Sports Team Wall Murals?

We offer options! Our graphics make your sports team look professional and stand out from the competion. It is important that your team bonds and works together. Creating an atmosphere that promotes these values is key to a sucessful team. We have been creating team wall graphics since 1993 for Professional Sports Teams, Colleges, Universities, High Schools and home decor.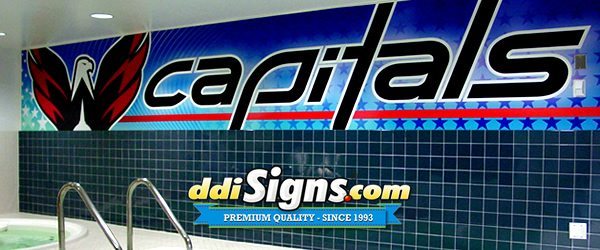 Wall Wraps for Sports Team. Motivate your team with brand graphics in your locker room or stadium.
Our wall mural decals should be installed directly on smooth painted and primed wall surfaces. Graphics can also be installed on to several panels and board materials like PVC, coroplast and foam board. We offer professional design services if needed.
We digitally print from files you provide at high resolution. Our vinyl wall decals are digitally printed on premium vinyl with an ultraviolet and scratch resistant matte over laminate.
There is no limit on the size of our wall mural. Our graphics are printed in easy to install tiled panels. DDI Signs ® specializes in wall murals for Ad Agencies, Sports Team, Corporate, Retail, Restaurants and Museum wall graphics.
We offer several kinds of Adhesive Wall Graphics:
Premium Vinyl Wall Graphics with Permanent Adhesive
Premium Vinyl Wall Graphics with Removable Adhesive
Fabric Wall Graphics with Removable Adhesive
Rigid Wall Graphics with Removable Adhesive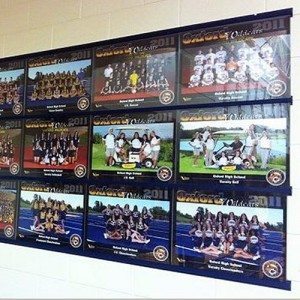 Sports Team Photo Wall Frame System
Need a way to display your team photos and be able to change them easily? Our Picture Hanging Track is the perfect solution.
Combine our photo track with a team mural for one of a kind display.
Contact DDI Signs® today and our Sports Team Wall Graphics Experts will help you put together a custom signage to suit your needs!
At DDI Signs® we are "Not Your Typical Sign Company!"