Why choose DDI Signs® for your custom band backdrops and stage banners?

It's simple, we care about your Band Backdrops & Stage Banners branding! We offer professional graphic designs services and high quality displays and printing.
Professional Brand Imaging for Stage & Media Events

Their are plenty of businesses that provide band backdrops and stage banners, and it seems like every day a new business pops up online. However, we are one of the first companies to offer press conference backdrops. Therefore, you can rely on our experience to provide you with the best quality backdrops available. Most importantly, we offer professional branding and original designs.
Our Repeatz™ brand custom stage backdrops and Band Step & Repeat Banners are made in the USA!
High-quality block out materials with a low glare finish.
Several Mesh options available for Stage Scrims and Speaker Covers.
Fast and dependable Nationwide Shipping.
We understand tight deadlines.
Professionally designed backdrop graphics and logo branded back walls.
Pantone Matching of your brand or teams' colors.
Optional printed sample for color matching.
Finally, before your job is printed our designers prepare an email proof for your approval.
Stage Backdrops and Band Logo Banners offer Musicians added exposure and custom brand imaging!

Musicians use our Flat Walls and Pop Up displays for Meet and Greet and Stage Backdrops with images, artwork and band logos. High-Quality Band Banners & Stage Scrims.
DDI Signs has been providing Stage Banners & Band Backdrops since 1993. We have giant display stands that are portable. Whether you need a banner for your band or for a special event stage we can design and produce what you need.
We offer several kinds of band banner materials and displays. Mesh Scrims, Vinyl Block Out, Fabric and Canvas.
Below are some of our more popular banner displays for media events. We offer a full line of banner stands and displays and if none of these fit with your project, Click here to explore your options >
Vinyl & Mesh Band and Stage Banners
DDI Signs® offers custom digitally printed Vinyl and Mesh Banners. 
Wind Mesh Band Backdrops are used for outdoor events and stages. The open Mesh material allows air to pass thru it and reduces the wind resistance.
Finishing Options: Reinforced web hems and grommets every 2 feet around the perimeter. Optional pole pockets on the top and bottom.
Wind Mesh Banner Printing Material Options:
We offer several weights and hole openings depending on your use. We have Heavy Duty Wind Mesh Banner Materials for giant building and stage scrim banners.
Let us know about your band & stage banner project and we will suggest the best mesh material to use.
Click here for more details about our Mesh Banners & Backdrops >
Click here for more details about our Vinyl Banners & Backdrops >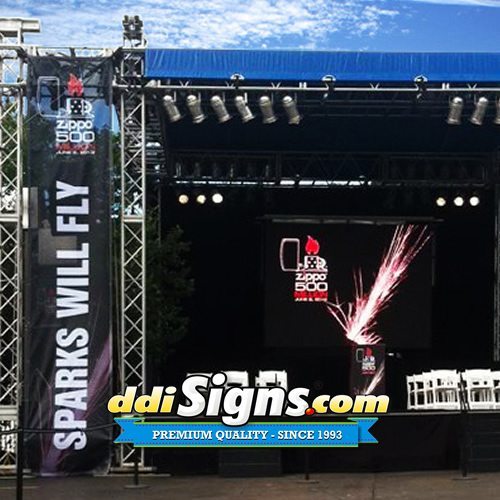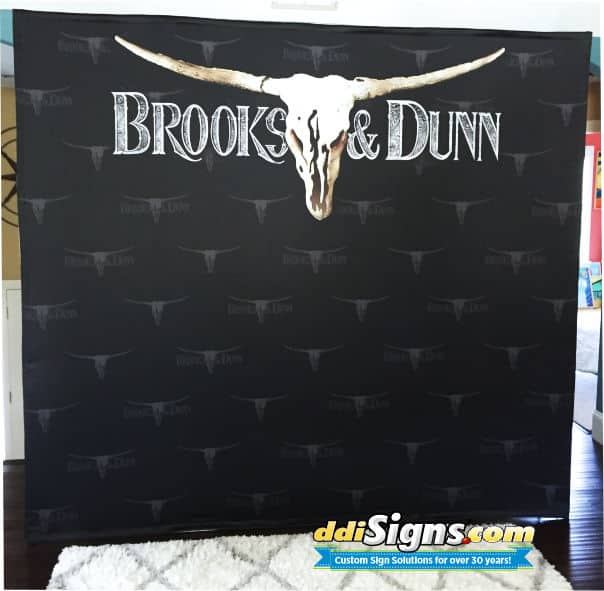 Pop Up Fabric Band Backdrop Displays
Our customers love this pop up media backdrop display because it is easy to set up and is portable. It collapses into a compact size for travel. Additionally, an optional airline check-able case is available.
The fabric banner attaches to the expandable X frame with Velcro hook and loop. Fabric graphics can be produced to wrap the sides or a complete wrap for a double sided display.
Multiple sizes available up to 25′ wide. Stands can be connected for larger displays
Click here for more info on our Pop Up Stage Backdrop Display >
Tension Fabric Straight Wall Backdrop
This is our most durable and easy to set up display. it has a thin profile with heavy duty base plates and Swage & Spring Button Connectors. Resulting in a tool free assembly.
Our Tension Fabric Straight Walls is printed on a block out fabric and sewn like a pillowcase. Fabric Banner slides over the aluminum frame then zippered shut at the bottom creating a drum tight media backdrop display. Portable Media Wall solution.
Standard sizes:
8′ x 8′, 8′ x 10′, 8′ x 20′, 10′ x 10′ and 10′ x 12′

Custom sizes up to 10′ high x 30′ wide.
Click here for more details about our Fabric Straight Wall Backdrops >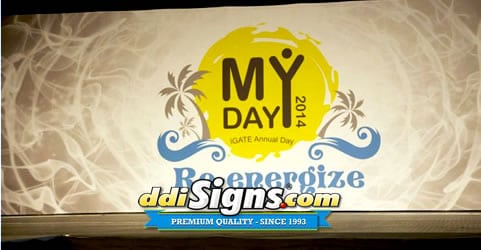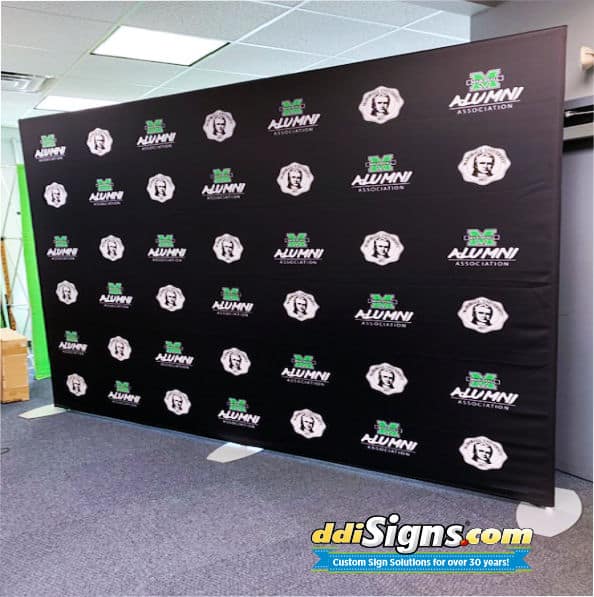 At DDI Signs® we are "Not Your Typical Sign Company!"