Why should you choose DDI Signs® for your custom car magnetic sign project?

It's simple! At DDI Signs® we we offer professional looking Custom Car Magnetic Signs and use the highest quality materials. We know how to make your business stand out and attract customers. Magnetic signs are an affordable way to advertise your business around town.
Standard Vehicle Magnet Sizes

Standard Size is 12″ high x 24″ wide
with custom sizes and shapes available.
If Contour Cut Magnets or Die Cut Magnets are needed largest height is 22″ inches.
Our Custom Shaped Magnets are Contour Cut to almost any shape.
Digitally Printed Magnets, we print at high resolution photographic quality.
What Magnetic Material do we use?
.030 Magnetic Sheeting, Thermoplastic Permanent Magnetic Product.
Flexible Magnet, High-Intensity, Multi-Pole magnetic arrangement designed to produce superior holding power on most metallic surfaces.
Large format digitally printed magnetic signs for vehicles and metal surfaces!
How to take care of your Custom Magnetic Signs

PROPER STORAGE OF MAGNETIC SIGNS
When not in use magnetic signs can be stored in a clean dry place.
Place magnetic signs on a clean flat metal surface.
PROPER CLEANING OF MAGNETIC SIGNS SURFACE BEFORE PLACING ON VEHICLE OR METAL SURFACE
Be sure all clear coats, surface paints, and waxes have hardened.
Clean the surface and the magnetic sign with a mild detergent or cleaner. Allow the magnetic sign and surface to dry thoroughly.
PLACING MAGNETIC SIGN

Only apply to a clean, smooth, flat metallic surface.
Long-term use of magnetic signs can cause uneven paint coloring on vehicles as the area the magnet is covering is not exposed to sunlight.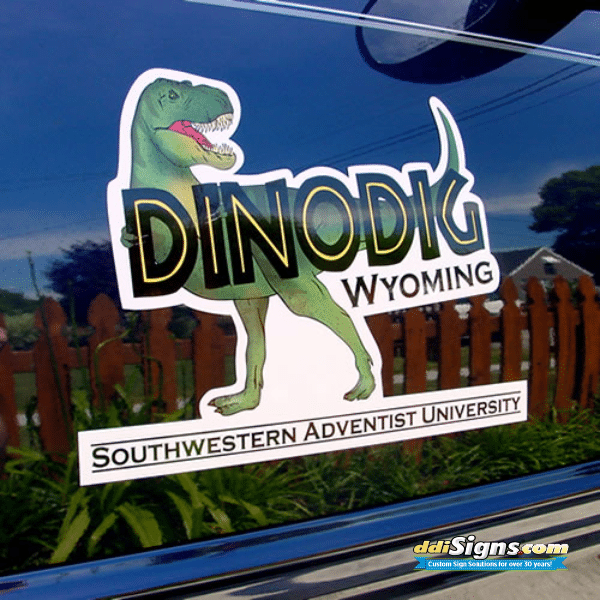 It is very important to CLEAN your magnetic signs DAILY and WEEKLY!

Regularly remove the magnetic sign from the vehicle and clean both the car and the magnetic sign.
Long term use with out proper cleaning can result in dirt and moisture build up between the magnetic sign and vehicle surface.
Improper care can result in the magnetic sign not being able to be removed or damage to the vehicle paint surface.
At DDI Signs® we are "Not Your Typical Sign Company!"