Why choose DDI Signs® for your Vehicle Wraps & Custom Graphics?

It's simple, Our Vehicle Wraps & Custom Graphics are manufactured using Premium Wrap Vinyl and high resolution digitally printed graphics. Our professional designers make your brand fit perfectly on your vehicle for mobile advertising that makes a statement!
Brand Imaging that makes a moving statement >

You use your business fleet and vehicles to get you to and from jobs. When you pull up to a customers place you need to project a professionally branded image for your business to be successful.
DDI Signs® expert graphic designers can create and entirely new brand logo or take your existing logo and make unique vehicle graphics that fit with in your budget.
Bus, Car, Truck, Van, RV, Boat, Planes and More >

No matter what kind of motor vehicle you have, we can wrap it or place vinyl lettering and digitally printed graphics on it. We use our old school knowledge, combined with state of the art equipment and innovative materials to create vehicle signage that lasts.
One Vehicle to entire Fleets >
Our vehicle lettering experts can provide graphics for one vehicle or a large fleet. If you want to install the graphics yourself we can provide printed decals ready to be installed.
Drive your brand home with vehicle imaging that puts your company in the visual pathway ahead!
Things you should know about Vehicle Signage and Wraps >
Is it worth the cost compared to other advertising?
Vehicle Signs and Lettering offer one of the most cost effective forms of advertising. You get more impressions per day and because you are a moving billboard your audience is greater and ever changing. You get advertising benefits when your vehicle is sitting still, parked at your place or in retail parking lots, your advertising is always with you and on the move. Advertising in places you could not place a regular sign.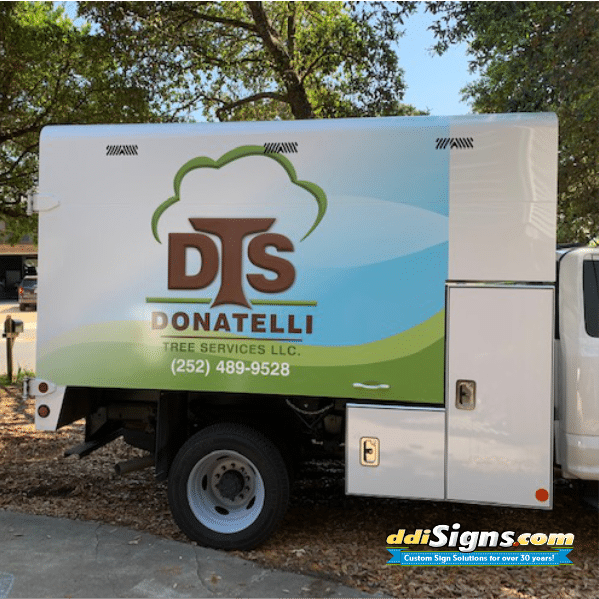 You can trust DDI Signs® with your Vehicle Branding Graphics!
We offer several kinds of Vehicle Signage and Lettering. Complete Wraps, Partial Wraps, Combination Wrap and Vinyl Lettering, Perforated Window Graphics and Simple Vehicle Vinyl Lettering.
From logo and vehicle graphic designing to installation, we have your business covered with our years of experience and high quality products your fleet will stand out from the rest. It is easy to just slap graphics on a vehicle, but your business does not need just any graphics, you need YOUR BRANDING GRAPHICS!
Image is everything and DDI Signs® can help make your company vehicles a branding success.
If you are looking for graphics for Box Trucks and Tractor Trailers that is changeable, check out our Heavy Duty Transit Frames >
At DDI Signs® we think that Vehicle Signs and Advertising is one of the best ways to advertise your business. Contact our Vehicle Signage Experts today to get started on your project!
At DDI Signs® we are "Not Your Typical Sign Company!"