Why choose DDI Signs® for your custom Stickers and Decals?
Our Most Popular Custom Stickers and Decal Solutions
High Resolution Digitally Printed Materials Available >

Clear stickers with white ink available, also with a removable adhesive.

White vinyl stickers with removable adhesive.

Premium white stickers with a permanent adhesive.

White and clear static cling sticker, for a re-positional option with not adhesive.

Custom etched look stickers for windows, also mirrors and glass.

Also removable fabric wall stickers and decals.
Stickers are always welcome. Drop some off at businesses or places you frequent and your brand will receive increased visibility. Express your brand attitude while advertising at the same time.
Also, you can hand out to customers and clients or include in mailings and packaging.
Stickers, Stickers and more Stickers!
Increase your company image and attract more attention your customers can get stuck on!
Frequently Asked Questions About Custom Stickers:
Do you have minimum quantity limits?
Yes, depending on the size of the stickers and the quantity you are requesting. Contact us with your sticker project and we will give you a free quote. We will gladly print small orders and larger orders and anything in between.
Can you contour cut to shapes?
Yes, we can die cut or contour cut to just about any shape. We use Roland Versa Print and Cut equipment and the inks are Eco Solvent vibrant colors and friendly to the environment.
Do you have size limits?
Yes and No, Our equipment will print and cut stickers up to 58″ high x 10′ width, if you want a giant sticker, they are printed in tiled panels. If you are looking for bumper sticker size and smaller we can print sheets with multiple size decals on them. We will also print sheets with multiple designs.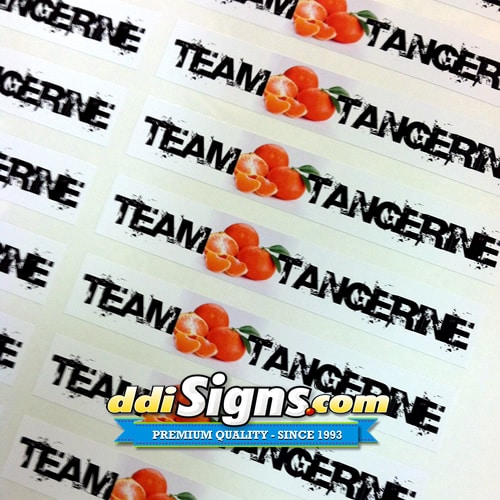 What kind of file formats do we need for your custom stickers project?
Click here to see our Submit Files page for complete file guidelines.
We prefer VECTOR files – Adobe Illustrator Ai, EPS or Corel Draw
All files need to be submitted in CMYK
Pantone colors must be indicated for color matching
All files must have fonts converted to outlines
For an additional fee, Printed Samples for color proofing can be provided
If you have any questions about file format or need design services do not hesitate to contact us. Our Sticker Experts are ready to help you out with your project! Contact Us!
At DDI Signs® we are "Not Your Typical Sign Company!"