Cut Vinyl Signs, Lettering & Graphics
DDI Signs ® offer custom cut vinyl signs. Premium vinyl custom cut to shapes and lettering. We can print on several kinds of vinyl for Office Signs, Exterior Signs, Back-lit Signs, Lighted Signs, Windows, Vehicles, Buildings and Wall Signs.
We ship to you with application masking and installation instructions.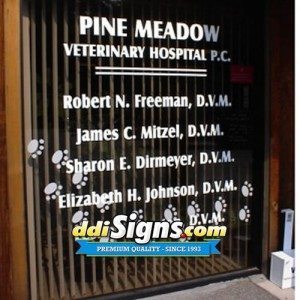 Cut Vinyl Signs, Lettering & Graphics
Premium Vinyl for Signage and Windows
Premium Cast and Calendared vinyl are well-suited for irregular or compound-curved surfaces, vehicle graphics, and long-term signage applications. Compared to other sign films, Premium Vinyl Signs are a much better value in terms of performance.
Greater durability, a longer lifetime, better conform-ability, excellent weed-ability.
Minimal fading or color shift when exposed to environmental pollution or any of a wide range of chemicals.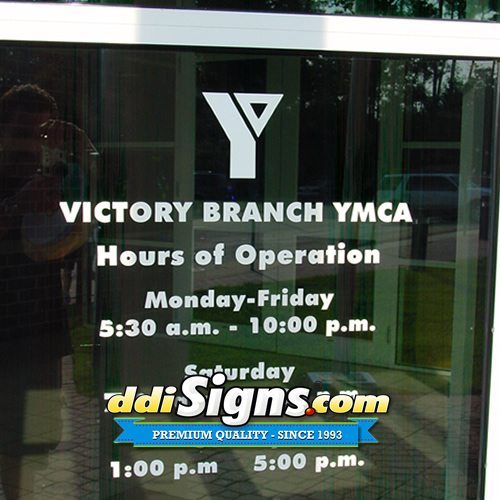 Intermediate Vinyl Signs
They're preferred for medium-term applications that don't require a Premium film's performance. Example applications would be banners and front lit or unlit signs. Intermediate Sign Vinyl is also great for vehicle markings that are flat or slightly curved. While Intermediate Sign Vinyl often comes in fewer colors, many people like it because of its mirror-like gloss.
Reflective Sign Vinyl
Sign Vinyl Films commonly called reflective are actually retroreflective. This means that when light hits their surfaces, it isn't reflected back to the light source. Instead, it's reflected in multiple directions. The result? You see the shine from pretty much any angle.
From enclosed lens glass bead technology to prismatic patterns. For Reflective Sign Vinyl used in traffic and safety signage.
Translucent Sign Vinyl
Unlike transparent films, Translucent Sign Vinyl Films diffuse light as it passes through the film. This gives it a softer, more matte-finished look.
Translucent Sign Vinyl is known to withstand weather conditions better and to have superior color consistency, whether viewed by day or seen back-lit at night. It's also easier to color-match to most corporate color schemes.
Applicable to a wide range of substrates, including flex face sign systems and various acrylic plastics.
Specialty Sign Vinyl
We have the Specialty Sign Vinyls you need to make the most creative, the most colorful, the most attention-getting signage ever!
Our Specialty Sign Vinyls work especially well in promotional applications, where many users combine them with other film types to achieve a layered look. And if you're trying to create a really distinctive, complex design, our Specialty Sign Vinyls can't be beat.
The primary types include :
Metalized Films – offering unique patterns like, metal flake, multi lens, gold leaf, silver leaf, mosaic, diamond plate, and chrome.
Paint Masks – used as templates to mask off areas that shouldn't be painted; available in Removable Adhesive, Low-Tack Removable Adhesive, and High-Temp Removable Adhesive versions
One-Way-Vision Films – ideal for use on buses, RVs, and fleet vehicles or in other applications where a graphic image is desired on one side, and a clear, unobstructed view is desired on the other side
Special-Effects Films – include dusted and frosted crystal; fluorescent, luminous, or chrome looks; matte colors; carbon fiber and brushed metal effects
Static-Cling Films – perfect for glass, smooth plastic, or metal surfaces
Dry-Erase Films – formulated for interior use with dry-erase materials; it can be written on repeatedly, then wiped clean with a dry tissue or dry-erase cleaning fluid
Chalk Board Films –