Snap Frames that are easy to open and change out Graphics
Heavy duty Aluminum snap frame with mitered corners with a sleek professional appearance. Beautiful Retail POP Displays, Office Signage and Museum Displays.
Standard Sizes Available in Satin Silver, Matte Black.
NEW! Aluminum Frames with wood tones: Cherry, Dark Oak and Light Oak.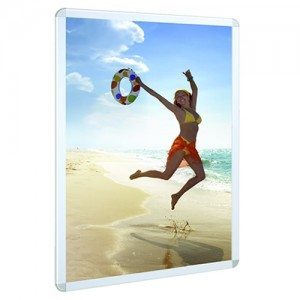 Easy Open Snap Frame Mitered Corners
CHANGE GRAPHICS EFFORTLESSLY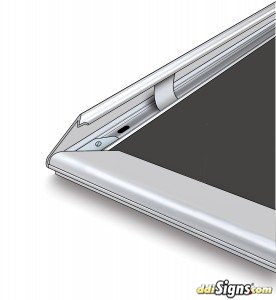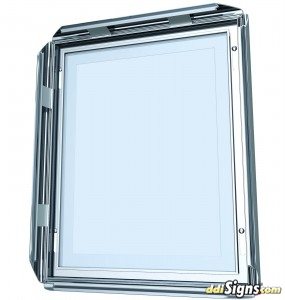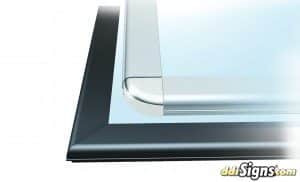 Features:
Aluminum frames, 1-1/4″ wide, 9/16″ deep
Accepts posters and paper signs up to 1/32″ thick
Rigid styrene backing.
Clear or Matte overlay lens included.
Vertical and horizontal mounting holes.
Wall screws and anchors.
Double Sided special order frames are available.
Live area: 3/8″ margin covered on all sides.
Beautiful mitered corners.
Spring loaded sides for easy insertion.
Special Note: Snap Frame extrusions are available in long lengths with components bulk packed.
NEW! Wood Finish Snap Frames: Cherry, Dark Oak and Light Oak Finish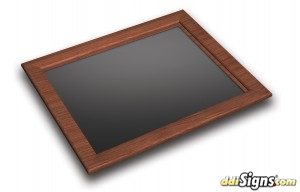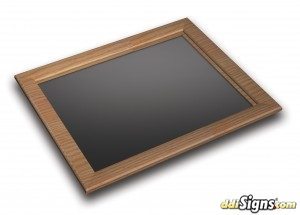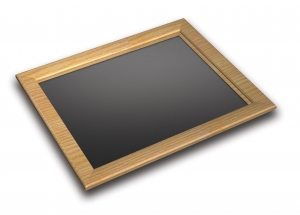 -S Satin Silver -B Matte Black W-Wood Finish
Silver costs less than black.
Lens*:
-C Clear -M Matte
Sizes Available for our Easy Load Snap Frames

Please indicate if you want the Snap Frames with or without graphics.
ME1B 8" x 10" Black Aluminum
ME1S 8" x 10" Silver Aluminum
ME1W 8" x 10" Wood Aluminum
ME2B 8 1/2" x 11" Black Aluminum
ME2S 8 1/2" x 11" Silver Aluminum
ME2W 8 1/2" x 11" Wood Aluminum
ME3.5B 11" x 17" Black Aluminum
ME3.5S 11" x 17" Silver Aluminum
ME35W 11" x 17" Wood Aluminum
ME3B 11" x 14" Black Aluminum
ME3S 11" x 14" Silver Aluminum
ME3W 11" x 14" Wood Aluminum
ME4B 14" x 22" Black Aluminum
ME4S 14" x 22" Silver Aluminum
ME4W 14" x 22" Wood Aluminum
ME5B 16" x 20" Black Aluminum
ME5S 16" x 20" Silver Aluminum
ME5W 16" x 20" Wood Aluminum
ME6B 20" x 24" Black Aluminum
ME6S 20" x 24" Silver Aluminum
ME6W 20" x 24" Wood Aluminum
ME7B 22" x 28" Black Aluminum
ME7S 22" x 28" Silver Aluminum
ME7W 22" x 28" Wood Aluminum
ME8B 24" x 30" Black Aluminum
ME8S 24" x 30" Silver Aluminum
ME8W 24" x 30" Wood Aluminum
ME9B 24" x 36" Black Aluminum
ME9S 24" x 36" Silver Aluminum
ME9W 24" x 36" Wood Aluminum
ME10B 30" x 40" Black Aluminum
ME10S 30" x 40" Silver Aluminum
ME10W 30" x 40" Wood Aluminum
ME11B 36" x 48" Black Aluminum
ME11S 36" x 48" Silver Aluminum
ME11W 36" x 48" Wood Aluminum