What Kinds of Interior Aluminum Sign Frames Do We Carry?
With DDI Signs® behind your business, no sign project is out of reach. We carry several kinds of metal framed signs. Below you can find detailed descriptions and links to PDF's with additional information. From Easy Open Frames, Supra Slim, Supra Slim LED, Plastic and Hybrid Frames.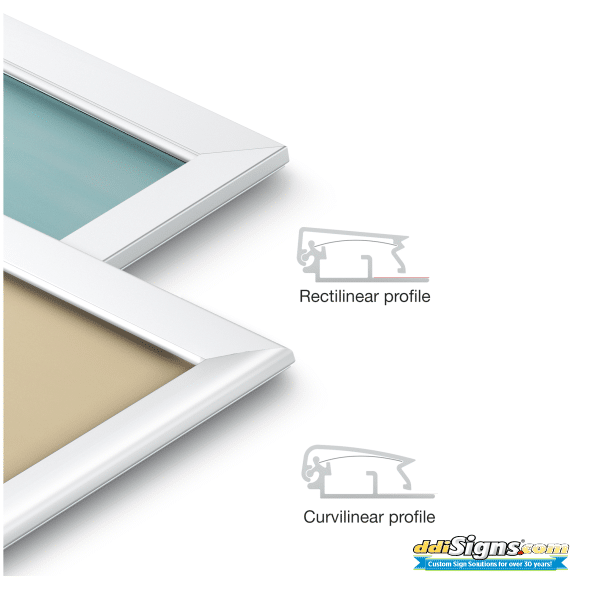 Easy Open Snap Metal Frames
These front loading snap shut frames work with graphics, posters and paper signs up to 1/32" thick.
Featuring "Easy Open" technology with spring-loaded sides. This feature makes it so convenient and simple for associates to swap out graphics without any special tools or equipment. Made of Light Weight Aluminum, available in standard and custom sizes and colors.
Beautiful mitered corners
Choose Curvilinear or Rectilinear Snapframe profile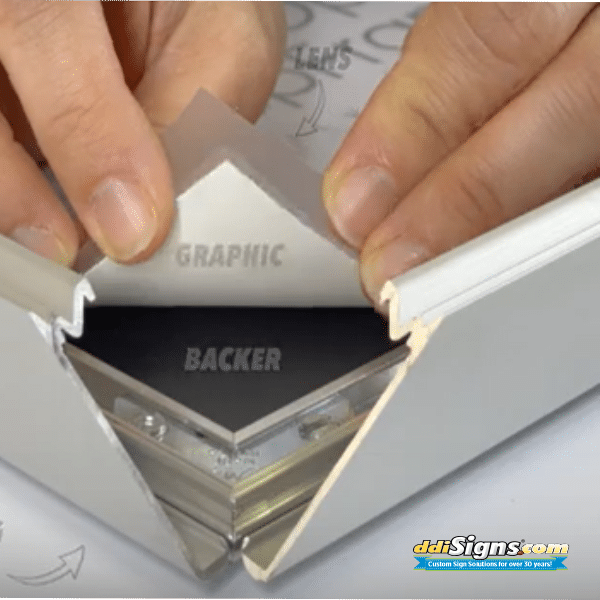 Product Details: 
Aluminum Frame, 1-1/4″ wide, 9/16″ deep
Media: accepts posters and paper signs up to 1/32″ thick
Vertical and horizontal mounting slots
Easily install with wall screws and anchors
Spring loaded sides for easy insertion
Rigid styrene backing
Choice of Clear or Matte overlay lens included.  
Available as Satin Silver  or Matte Black (Silver costs less than black.)
Custom sizes available.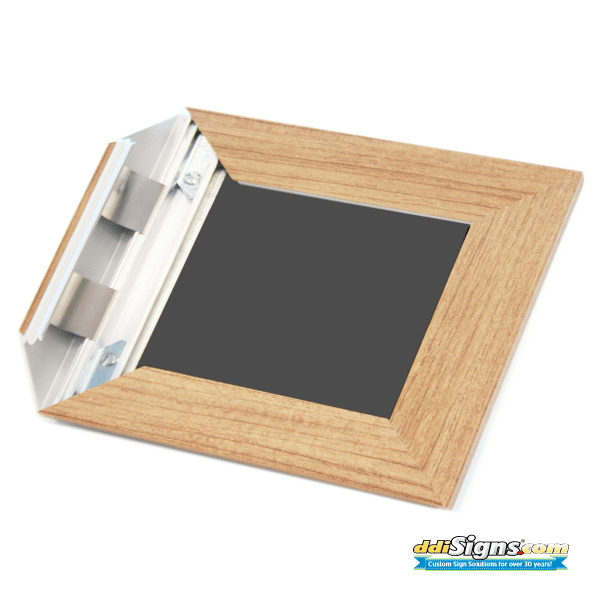 Our metal frames are available in 12 standard sizes including 8" x 10", 8.5" x 11", 11" x 14", 11" x 17", 14" x 22", 16" x 20", 20" x 24", 22" x 28", 24" x 36", 30" x 40" and 36" x 48". We can provide custom-size snapframes in 1/16″ increments, and our sizing is based on the Inside Dimension (ID) which means how large a graphic the frame is designed to accept.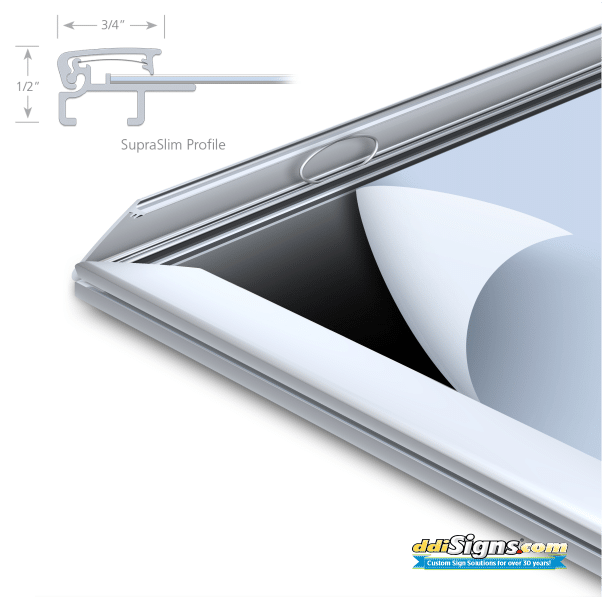 Supra Slim Aluminum Frames
These super slim frames are just ¾" wide and ½" deep providing a super sleek, and super slim rail construction that blends in behind the graphics. Graphics sit behind a beautiful frame with clean, mitered corners. This 0.75" ultra thin profile keeps the attention on your messaging, offering freedom from bulky signage.
These slim hanging snap frames are available in multiple standard sizes from 8"x10" up to 24"x36" . Custom sizes are available. The largest sizes may ship disassembled to save you on freight shipping.
Easily integrate graphics and substrates up to 1/32" thick. Our spring-loaded, front-load design makes it quick, easy and convenient to change out your messaging as often as you want.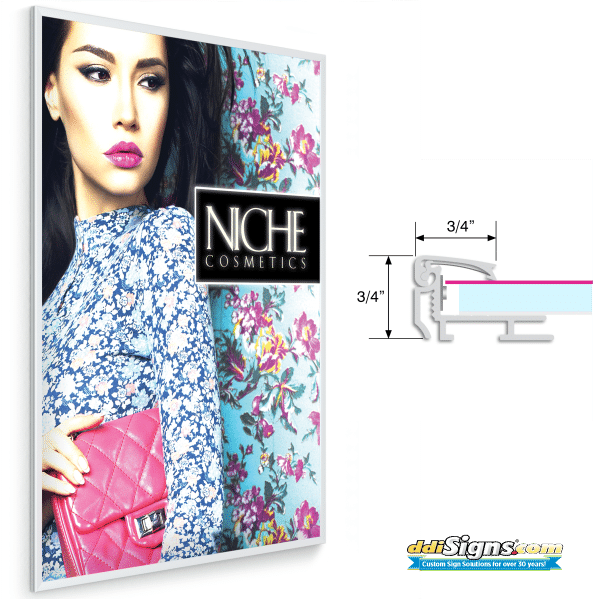 Supra Slim Aluminum Snap LED Lighted Frames
This Aluminum LED snap light box can be made in three standard sizes starting at 18"x24", 22″ x 28″, 24″ x 36″ available with or with out the Backlit graphic – be sure to specify when ordering. Choose from Satin Silver or Black Matte finish.
When you want a clean, modern look, front-loading convenience, and high-impact lighting. Illuminate your messaging and your brand to grab attention. Light boxes made in standard and custom designs in the USA.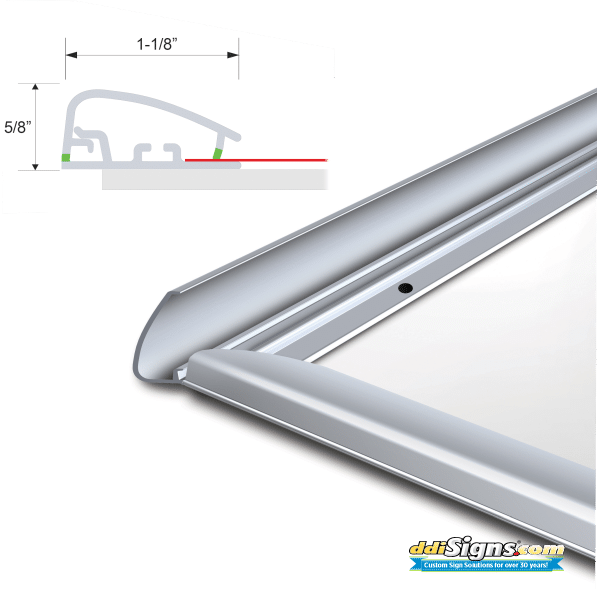 Plastic Snap Sign Frame
These PVC snap frames are available in multiple standard sizes, from 8" x 10" up to large format at 36" x 48". Because they're made from plastic, they're low cost, ideal for the budget Snap Frame end user.
8″ X 10″, 8-1/2″ X 11″, 11″ X 14″,14″ X 22″, 16″ X 20″, 20″ X 24″, 22″ X 28″, 24″ X 30″, 24″ X 36″, 30″ X 40″, 36″ X 48″
Front loading plastic snapframe 
Strong PVC frame
Choose from standard satin or black finish or order custom color 
1-1/8″ wide, 5/8″ deep
Accepts posters to 1/32″ thick
Vertical & horizontal mounting holes
Wall screws and anchors included
Plastic corrugated backer
One piece 'living hinge' construction, snapframe without springs
Co-extruded SnapFrames – no springs
Frame ships PRE-ASSEMBLED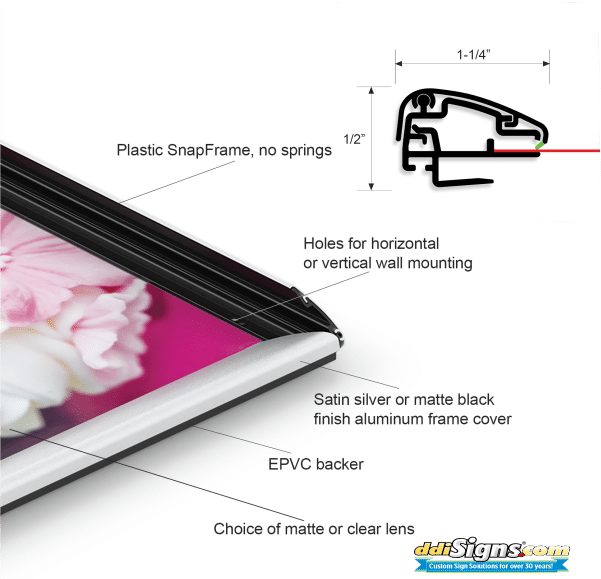 Hybrid Snap Sign Frame
A combination of our plastic frames with an aluminum face cover.
Sizes 22″ x 28″, 24″ x 36″, 30″ x 40″, 36″ x 48″
Aluminum Covers
Plastic SnapFrame
No metal springs
Matte or clear lens
Matte black finish
Precision mitered corners
White expanded PVC backer
Wall anchors & mounting screws
Frame ships pre-assembled
Accepts substrates to 1/32″ thick
Double sided, back to back versions available
Contact DDI Signs® today and our Snap Frame Experts will help you put together a custom display to suit your needs!
With DDI Signs® behind your business, no signage, banner or graphic hanging project is out of reach!