Custom Branded Surfboards & Inlays.
Glide thru the waves on a surfboard with custom graphics that also reflects your personality. Or maybe you want to decorate your beach house or office with a surfboard wall hanger. We can provide complete boards or just the graphics for you to glass.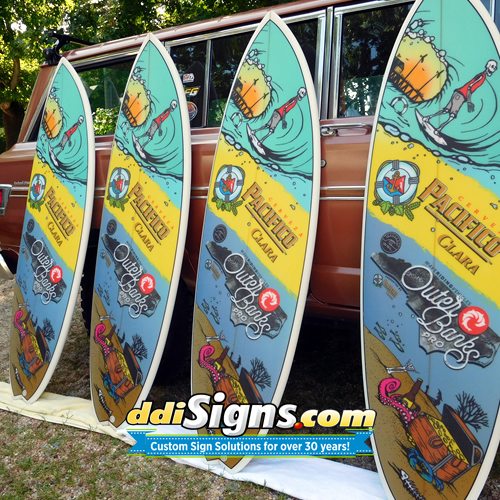 Custom Branded Surfboards & Inlays
Real Surfboards, Promotional Surfboards, and Decorative Surfboard Wall Art.
DDI Signs offers real usable surfboards with custom imprinted graphics. Likewise, we make custom branded surfboards for promotional or decorative use. Also, we make just the inlays if you are a surfboard maker. We use a special fabric that becomes transparent when glassed.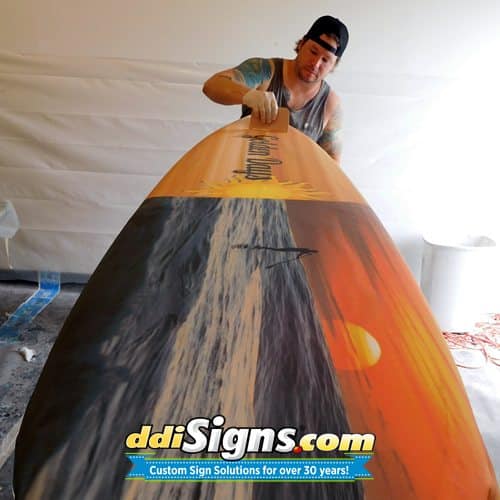 Complete Surfboards & Graphics
Short boards, long boards and specialty boards
Customized with your designs or our graphic designers can create a unique design for you. Personalized graphics that make your surfboard one of a kind. We work with professional surfboard makers, resulting in competition quality boards.
Promotional Surfboards & Giveaway Boards
Complete Surfboards or Boards without fins.
Our promotional custom branded surfboards are a great way to advertise company or organization. Imprinted surfboards look great in bars, restaurants and trade shows. Likewise, businesses have ordered custom surfboards from us to hang in reception areas and in corporate offices. We use real surfboard blanks, shaped by a professional maker.
Surfboard Wall Art
Complete Boards or Surfboard Shaped Signs.
Decorate your home or beach house with a custom designed or personalized surfboard. We have created boards that have a custom saying or family name. Additionally, we have created custom surfboards for weddings, birthdays and special events.
Check out our gallery of Custom Surfboard Graphics >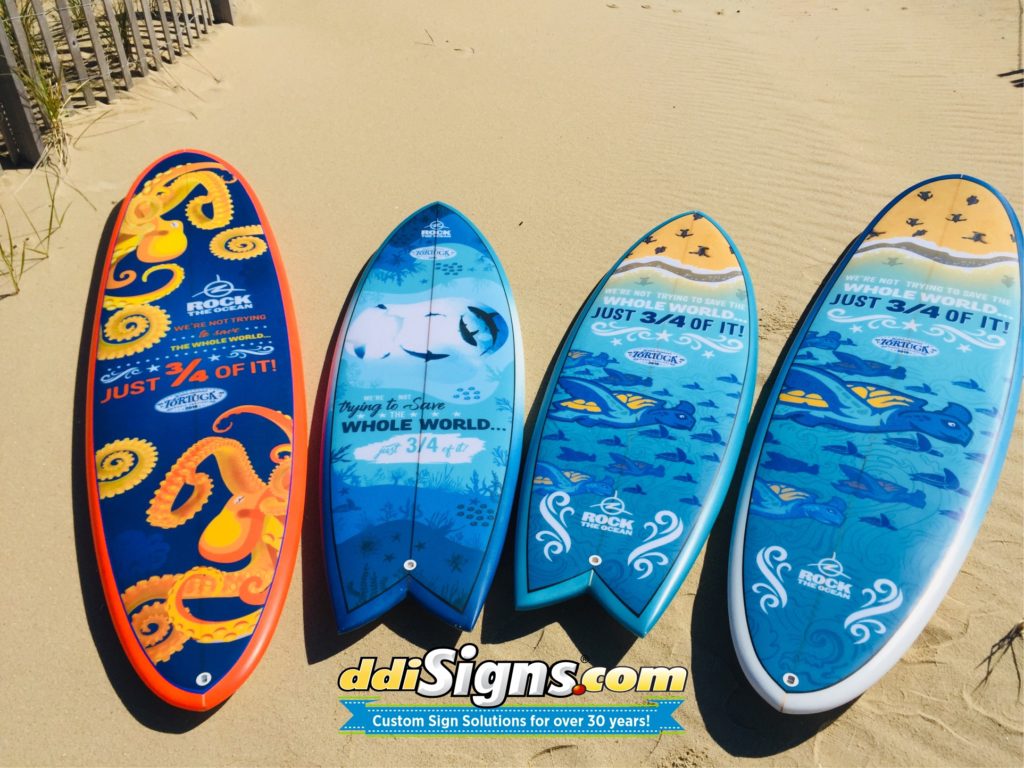 Rock The Ocean's Tortuga Music Festival – Fort Lauderdale, FL 2019. Fun boards and Fish custom branded with graphics promoting the Festival. The surfboards were auctioned off to raise money for Rock The Ocean foundation.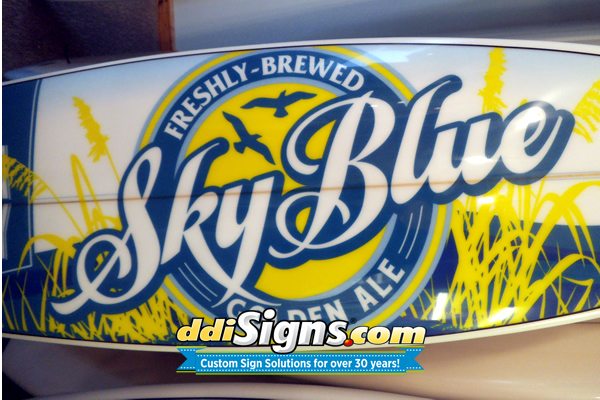 Carolina Brewery promoted there Sky Blue Golden Ale on short boards that were placed in restaurants. Displayed prominently behind the bar, resulting in branding being right in front of patrons. Also boards were placed in there brewery locations.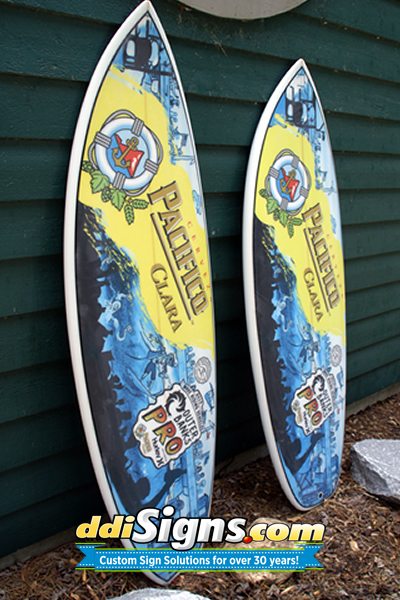 Sponsored by Pacifico Beer, The Outer Banks Pro Surfing Contest used our custom printed inlays to make special surfboards promoting the event. Additionally we produced award boards for the winners.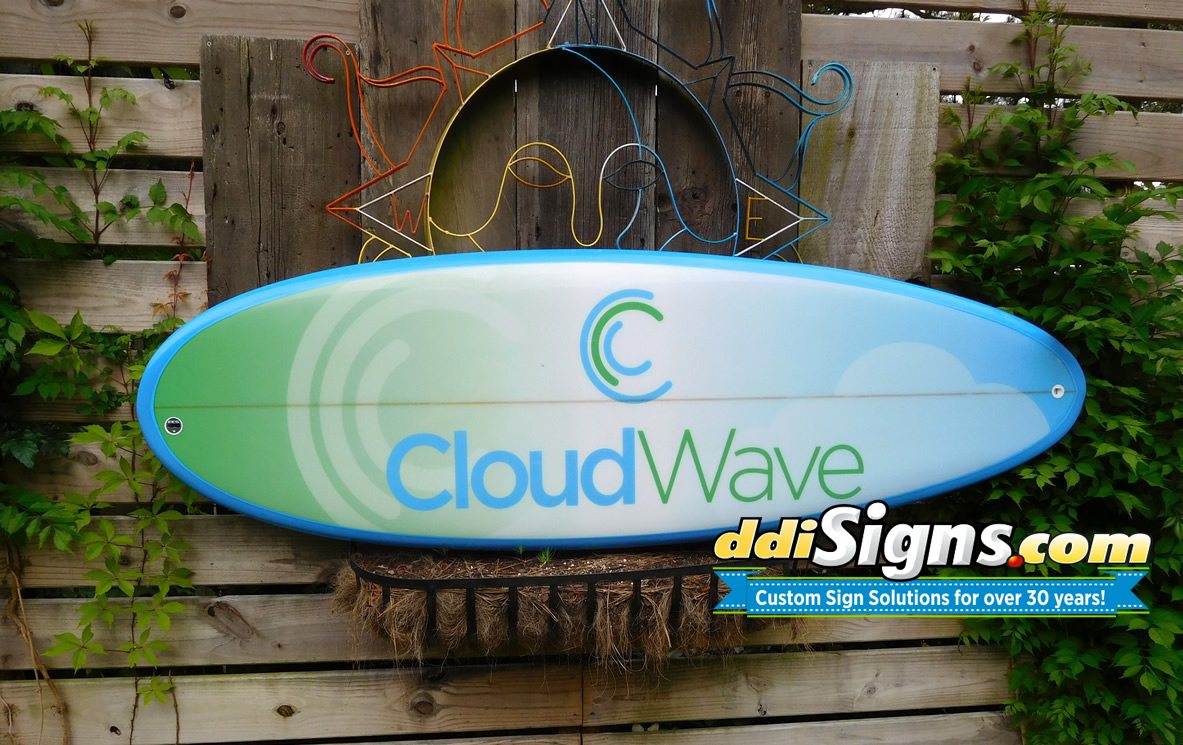 CloudWave used our custom imprinted surfboard as a wall hanger in there offices. Also, they displayed it at trade shows and convention events to attract attention. Additionally, our boards can be used as signage.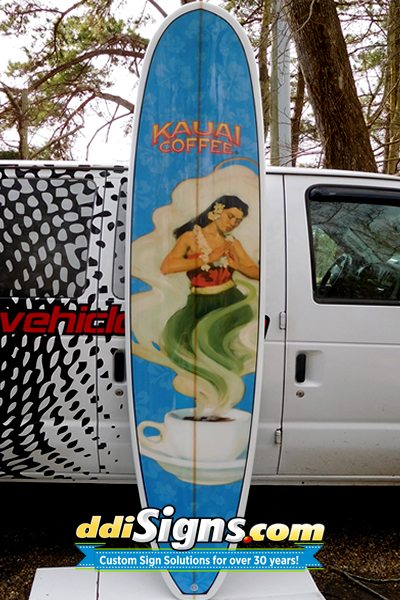 Kauai Coffee uses one of our custom branded surfboards in it shops. People love to take a selfie in front of it. Also, it is creating a buzz on social media. Kauai trusted us with there branding and because of that, increased exposure and sales.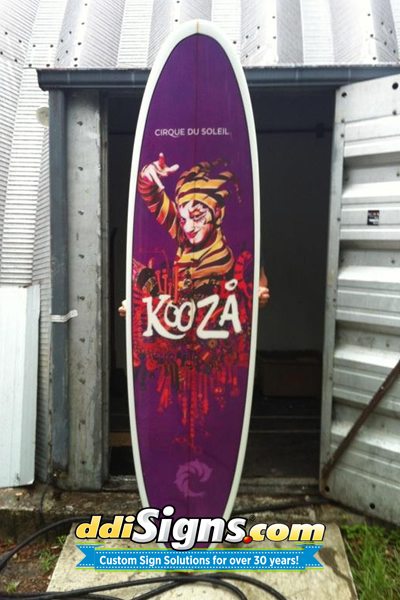 Cirque Du Soleil custom surfboard inlays were produced for Wave Riding Vehicles. They shaped and glassed the board. Strategically placed at the entrance of it shows. Turning it in to a show stopper and brand exposure on social media.
GET IN THE CURL
You can trust us with your brand
We have created custom surfboard graphics for top board manufacturers, professional surfers and corporations. Located in Kill Devils Hills, North Carolina an area known as the Outer Banks and a prime spot for surfing!
Finally, we are stoked to quote your surfboard graphic project, complete our online form today. If you have files shoot them to us thru our  submit files page.
Here are some more of our custom surfboard graphics & custom inlays.
Hang ten perusing our Gallery of Custom Surfboard Graphics >