What are some visual solutions that your business would benefit from by using DDI Signs® Frosted Glass Office Logo Signage?
Frosted Glass Office Logo Signage is a unique way for businesses, offices and store fronts to place logos and or lettering on glass windows and doors for signage. Below are some examples of ways this innovative product can be used.
Brand Imaging on Your Store Front Windows

With Etched & Frosted Window Decals you can display your business logo, messaging and hours of operation prominently. Showcase storefront glass windows and doors with a brand logo. Our decals can be used  indoor or outdoors. Draw customers in with elegant glass door graphics. This can simply be cut etched vinyl, or full color printed graphics onto etched decals.
Privacy Screening and Light Controlling

DDI Signs® creates beautiful window graphics and logos that provide privacy and reduce sun light. Transforming your store or office with unique and functional window decor. Our Etched Look Vinyl Graphics can provide full window coverage that still allows some light thru. This is a great solution in offices and buildings with glass doors and room dividers. Our Frosted adhesive window decals comes in colors or we can print directly on them for an elegant look.
Way-finding and Directional Signage

Use your glass windows, doors and dividers to direct traffic and identify offices or rooms. Start with your exterior areas and store front to create a flow into interior areas. Combine this with our Floor Graphic Solutions for a cohesive and functional way-finding design.
Glass Window, Wall and Door Imaging that reflects your brand in a positive light!
Adhere business logos and lettering to glass surfaces, transforming your office or store front space into visual branding.
DDI Signs® can create stunning room dividers that still allow some light to pass thru.
Ideal for the decorative design of shop windows, glass doors and glass-like surfaces. Gives your Business Logos and Signs an elegant and classy look.
Etched Look Vinyl cut graphics are a frosted vinyl that allows diffused light thru it. Decals can be installed on the inside or outside of the glass window or door if desired. Looks awesome on mirrors too!
Can be applied to Mirrors for added wow factor!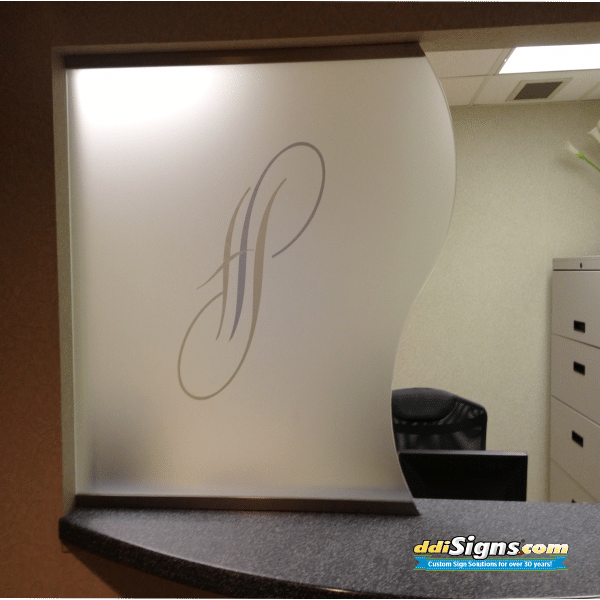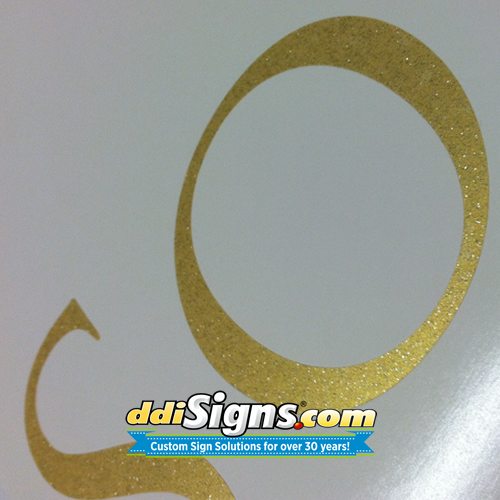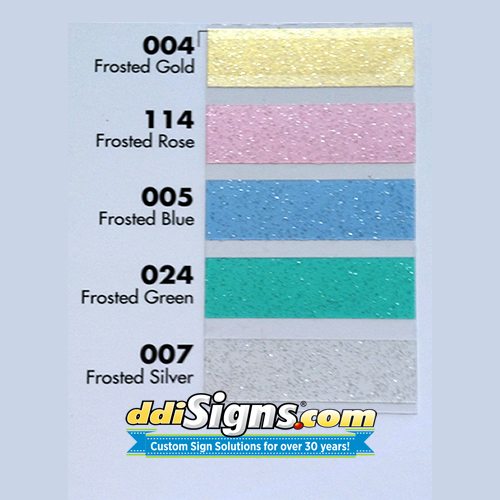 Premium Frosted Vinyl Logos & Lettering
Custom Cut Colored Etched Look Signs & Graphics, Frosted Gold, Rose, Blue, Green, and Silver colors to choose from!
For an extra elegant effect choose our Frosted Decals. Create a sparkling glass effect with our Translucent Frosted Glass Film. Available in five shimmering colors:
Frosted Gold – This gold effect is stunning on windows with a medium gold tone.
Frosted Rose – The Rose color is a shade of pastel pink with a shimmer.
Frosted Blue – A lighter to medium pastel blue adds a pop to glass logos.

Frosted Green – The green is a light to medium pastel shade for a subtle shine.
Frosted Silver – Silver is a lighter than Standard Etch Look with an explosion of sparkles.
This Premium Cast Frosted Window Vinyl has an outdoor durability of 5 years with a permanent clear adhesive. Frosted window signs are an excellent choice for the decorative design of shop windows, glass doors, and glass-like surfaces.
Also, a creative solution for special event graphics like weddings, anniversaries and birthdays. The uses are endless, you can combine with regular solid colored cut vinyl for unique signage and graphics.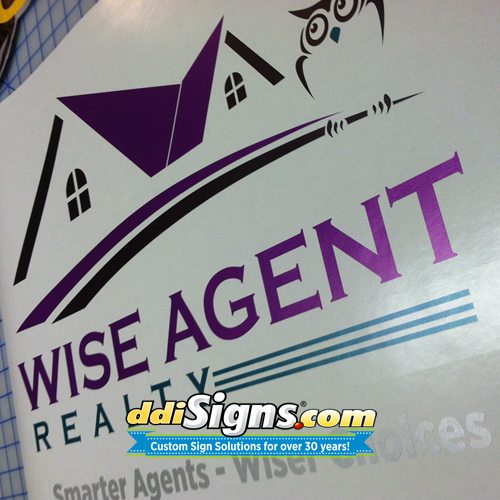 Digitally Printed Premium Etched Vinyl
Want to add a splash of color to your frosted vinyl sign?
Well, we have the ability to print directly on to our material to make you window graphic shine bright!
Add another dimension to your window signage with your brands colors. Graphics and logos can be printed on sheets of etched look vinyl to create frosted room or office dividers without walling an area off.
Etched look vinyl graphics are semi translucent and has reflective flakes imbedded for shimmering signage when light hits it at the same time it allows some light thru the graphic for a unique imaging effect.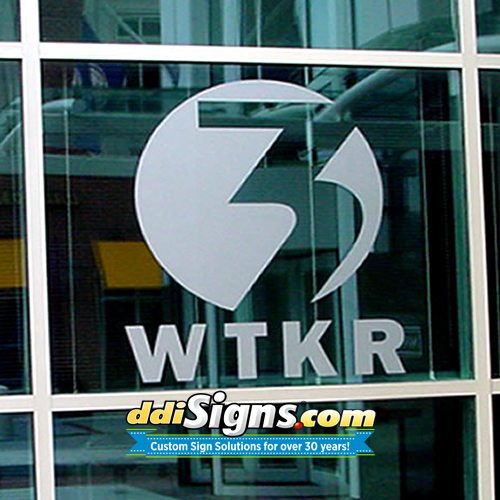 Premium Etched Glass Vinyl Material
This Premium Cast Etched Glass Vinyl has an outdoor durability of 5 years with a permanent clear adhesive.
Fine grain structure.
Create the look of etched glass finish on windows and doors.
Minimal shrinkage for permanent, durable applications that will last.
Its satin surface inhibits undesired reflection.
Looks like etched glass but is a vinyl decal placed on the inside or outside of glass or any clear window or door substrate. Looks awesome on mirrors!
What kind of files do we need to produce your signs?
If you are submitting your own artwork for us to produce your signs, we prefer to receive them as VECTOR LINE FILES. This file type offers the highest resolution for large graphics.
All files must have all fonts converted to outlines. Please see our Submit Files page for more details on submission guidelines.
If you are unsure if you have the correct file or need professional design services please contact us and we will help.
At DDI Signs® we are "Not Your Typical Sign Company!"